Thank You Corrie Meyer!
ROW is saying goodbye to our Collective Impact Director of the past two years, Corrie Meyer, as she moves on in her professional career.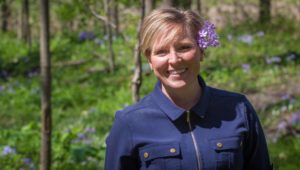 Corrie had been connected with ROW since 2012, during which she worked on the Fall Creek Master Plan for Ivy Tech which led to the 2013 Lilly Day of Service invasive removal and native plantings projects along Fall Creek. In 2013 she aided ROW in organizing a bus tour of ROW focus areas for developers while also working on the Pleasant Run Master Plan. She worked with the Pleasant Run Committee to install a new bench and drinking fountain at the Prospect Falls destination. In 2014 Corrie served as Co-Chair for both the Pleasant Run Committee and Steering Committee. And starting in 2015 Corrie began working as ROW's Collective Impact Director.
Corrie has invested years of work into ROW and her investment has not been unnoticed. We here at ROW are incredibly thankful for the year's Corrie has spent with us and we wish her the good fortune in all of her future endeavors!