Dyeing Our Waterways
---
Several times a year, the waterways of Indianapolis change colors in support of an awareness campaign, to highlight a specific month or to celebrate a festive holiday. The waterways are also exposed to these coloring dyes for more practical purposes, as is the case with tracing dyes.
---
The uses and effects of dye in the waters
Tracing dye helps public health officials determine if sewer laterals are connected to sanitary sewers or storm sewers or if they outfall to a ditch or stream. We see this happen across the country, but do we know what effects this dye has on the environment? Is it actually safe to be pouring these chemicals into our waters?
Here at ROW, preserving and cleaning up our waterways to keep them as community assets for the public is of the utmost importance. After researching this process and speaking with public health experts, we discovered the dye is safe, as long as the necessary steps are taken throughout the dyeing process to ensure the correct amount and type of dye is used. We also found a few simple ways for the community to prevent harmful substances from entering our waterways, an ecosystem that needs to be cared for. 
Measuring the dyes' community impact 
When the city dyes the Central Canal in support of an awareness month or for a major event, it may attract a new audience to a good cause. Changing the colors of a body of water that many people encounter every day is a quick way to engage the community. It brings about that initial spark of awareness that may have never existed if not for the change in scenery.
These dyeing ceremonies bring community members together in support of one cause, strengthening the city's civic responsibilities and engagements, but does this dye adversely affect the environment or the waters? We found out the dyes used in these ceremonies are non-toxic, according to Jody Arthur, the Integrated Report Coordinator for the Indiana Department of Environmental Management (IDEM). If any community or organization puts something in the water that they think might produce irregular discharge, they would have to acquire a permit first. In the case of dyeing around a holiday or event, this is an occasional use that does not produce any harmful waste.
"If they weren't using non-toxic dyes, our permit people would definitely have a problem with that," Arthur said. "It would not be under the authority of IDEM to regulate these dyeing processes in any way, and it wouldn't be prudent either because why would you spend resources regulating something that's not harmful?"
The Central Canal has been dyed for over a decade now, according to Chris Gahl, the Senior Vice President of Marketing & Communications for Visit Indy, the city's lead tourism arm. Throughout this time, the dyeing process has improved. The city is judicious with the amount of times it dyes the waters, using it only for special occasions, events and key festivals the city is hosting.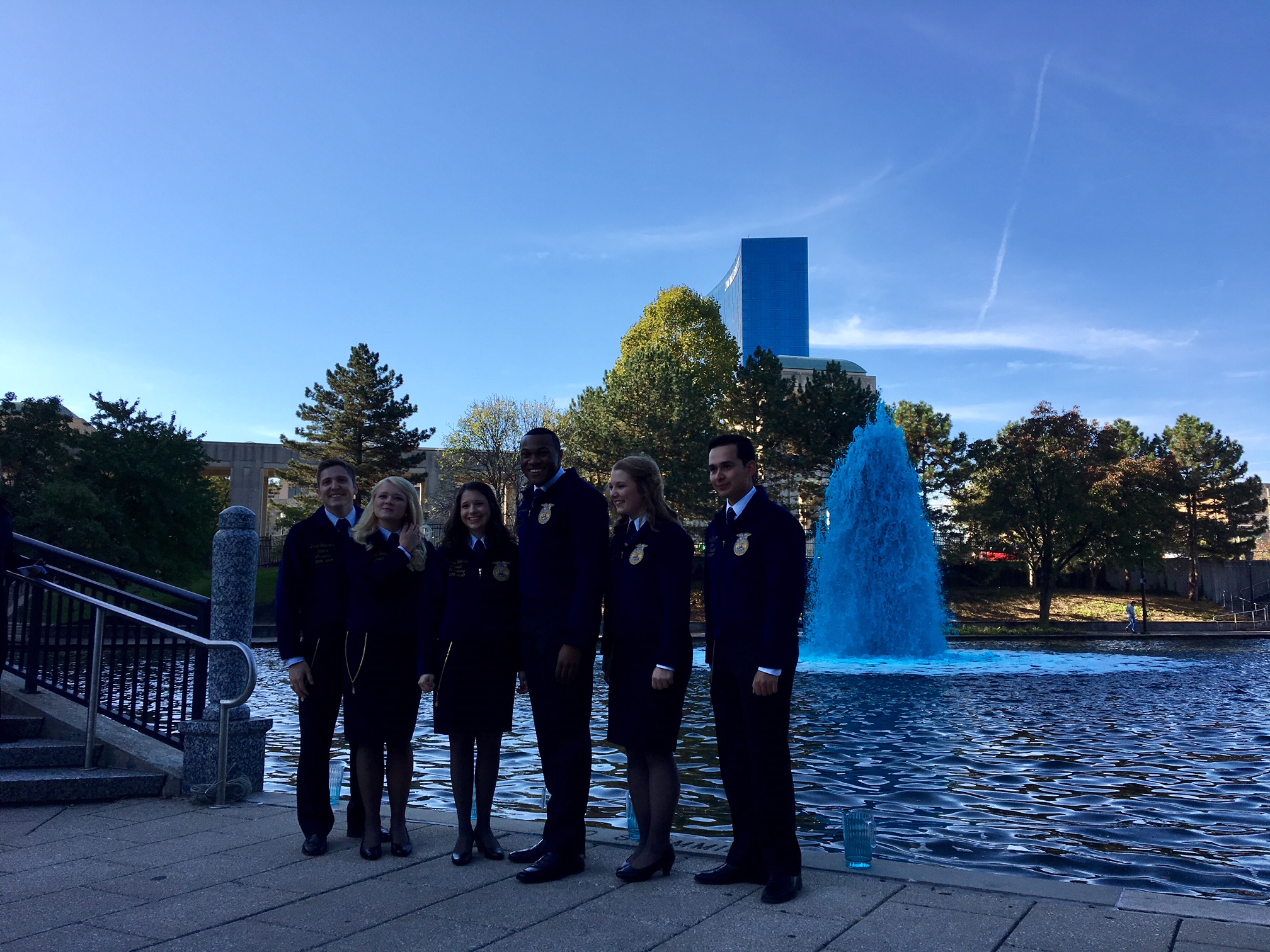 The Canal is dyed blue during the FFA Convention – Photo from Visit Indy
Not only does this dyeing process raise awareness in support of a cause it can also raise awareness for Indianapolis and its often-underused waterways. Gahl says they have conducted extensive research both inside the city as well as outside the state on how to enhance Indianapolis's brand and get more people to visit, and one of the key improvement areas is better and more routine activation of our waterways.
"We as a community have gotten accustomed to turning our backs on our water," Gahl said. "The simplicity of changing its color helps draw awareness to where the water is located and the role it plays in our everyday life. That exposure will in turn lead to more people discussing water and looking towards the water for other usage."
Practical purposes for dye in the water 
Besides dyeing the waters to increase awareness, dye is also used by the Public Health Department for tracing purposes. This tracing dye is added to septic tanks to see if a connection exists to a storm sewer conveyance or water body. The dye is also used to test the strength of a septic system, according to Adam Rickert, the Manager of Water Quality at the Marion County Public Health Department.
The dye used for testing is also non-toxic, and has fulfilled the certification process for NSF/ANSI 60. NSF/ANSI 60 are standards that all water treatment chemicals in North America must comply with, developed by the National Sanitation Foundation (NSF), a global public health and environmental organization, and the American National Standards Institute (ANSI), which oversees the development of standards for manufacturing and procedures in the U.S.
"We have not observed any adverse effects of this dye on the environment or are even aware of any reports of adverse effects," Rickert said.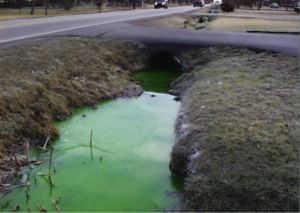 According to Rickert, the main concern they hear from the general public when performing this dyeing process is how long the dye lasts and how much is used. The dye is visible for 2 to 4 days within sanitary sewers and open storm conveyances. Additionally, around 50 tablets of the dye are used. Although this might seem like a lot of chemicals, the process is still safe as long as the amount of dye used is proportional to the water body receiving the dye.
Tracing dye being used to identify that a sanitary sewer lateral was incorrectly connected to an open drainage ditch 
Common pollutants in the water (and how we can help)
Although the dye is not harmful, we still need to be aware of common pollutants that do affect the waterways. Jody Arthur studies these pathogens within her role at IDEM, putting together a report every 2 to 3 years about the state of the nation's waters. Part of that report includes the 303(d) list of impaired waters, a comprehensive list of the waters that health officials have found to be damaged. These waters could be damaged in one of two ways: human or aquatic health.
When it comes to human health, the department primarily measures for traces of E. coli, an indicator organism that signifies fecal matter in the water. Arthur says E. coli is pervasive in Indiana and in many other Midwestern states, but this doesn't mean those waters are harmful to engage with in recreational ways. If an Indiana water body is on the impaired waters list for E. coli, the only concern is getting the water in your mouth or if you have an open cut.
"What people don't realize is that those standards are based on one illness in 8,000," Arthur said. "People that are thinking about recreating in any surface water need to wash their hands before they eat something, and if you have little kids that swallow water, don't let them in those waters. Use common sense in the same way you would with other situations in your life to keep you and your family safe."
When monitoring biological communities, the department examines fish communities by checking if the fish are deformed or have any noticeable sores. They also observe bugs and measure their toleration to certain waterways. If officials were to find bugs that have a low toleration for toxins, they could then determine the waterway is extremely clean. Conversely, an aquatic community could be toxic if a number of snails or leeches, which have a high tolerance to pollution, were found residing there.
"Very often, we find the problems stem from a habitat issue," Arthur said. "It's not at all uncommon to find a problem with one or more biological communities and have no problems whatsoever with the chemistry we find there. Habitat is a driver in almost every impairment to some degree."
So what can we do as a community to help with these habitat impairments? We can start by regularly cleaning out our septic systems. According to Arthur, people should have their septic systems pumped once every two years depending on the size of the household. We can also pick up after our pets. In urban areas where there is a high concentration of domestic animals, picking up after them can have a substantial effect on the health of our waterways. However, the biggest impact we can make on the habitats of aquatic life is letting our own habitats grow, according to Arthur. For example, if there is a drainage ditch or a small creek in your backyard or storm drains in urban and suburban settings, let the native plants around it grow to provide a better habitat for organisms. In urban and suburban areas, consider redirecting your downspouts into a rain garden so the water infiltrates the ground and doesn't enter the stormwater system.
"A lot of people don't think about landscaping from an environmental perspective, but all of these things cumulatively add up," she said. "It's not just a bunch of little pieces, it's all one big ecosystem. What happens in one area affects another, and none of these items are mutually exclusive."
Communities need to be conscious about what is going into their waterways to preserve them for years to come. Although dye can be used to attract people to the water, it is important to take necessary steps to ensure the process is safe. It's also important that we as a community do our part in preventing water pollution and supporting overall water health.
Do you have additional questions about how dye in the water might be affecting your environment? Or do you have suggestions for keeping common pollution out of the waters? Connect with a ROW staff member at [email protected] to learn how you can get involved. You can also check out the Clear Choices Clean Water pledge that our partners at the White River Alliance are working on. The program educates people on water friendly practices like landscaping with native plants, cleaning septic systems and managing yard and pet wastes. Learn more or take the pledge for clean water here: http://www.clearchoicescleanwater.org/national.php
Indy dyes the Canal several times throughout the year in support of a certain organization, including these awareness weeks, months and holidays:
Multiple Sclerosis Awareness Week – On March 5-11, the canal turns orange, supporting the millions of people that are affected by Multiple Sclerosis, with 8,200 people affected in Indiana alone.
Patrick's Day – On March 17, Hoosiers watch in excitement as the annual Greening of the Canal takes place to celebrate St. Patrick's Day.
National Sexual Assault Awareness Month – During April, the Canal is dyed teal in support of National Sexual Assault Awareness Month, an event hosted by the Indiana Coalition to End Sexual Assault (ICESA).
Indianapolis Colts – In the beginning of September, the Canal goes blue to kick off the start of Indiana's football team's season.
Ovarian Cancer Awareness Month – In September, the Canal turns teal again to honor the women who have lost their battle to this cancer and those that are still fighting.
Hispanic Heritage Awareness Month – During September, the Indiana Latino Institute dyes the Canal orange to celebrate this awareness month.
National Recovery Month – Also during September, the Canal will go purple for National Recovery Month, increasing awareness of mental and substance use disorders and celebrating the people who have recovered.
National Action Hunger Month – The Canal is also dyed orange in September, bringing support to this cause.
Breast Cancer Awareness Month – The Colts and Mayor Joe Hogsett take part in a Pinking of the Canal ceremony during October to raise awareness for breast cancer.
National FFA Convention – To welcome back the Future Farmers of America (FFA) to the city, Indy dyed the Canal FFA blue in late October.