Success Story: Barth Avenue Bridge Project
---
Many outside groups had promised to invest in the Bates-Hendricks neighborhood of Indianapolis before, but few had delivered. When residents teamed up with community stakeholders in a collective impact effort to renovate the crumbling Barth Avenue Bridge as a pedestrian destination, change started to occur as neighbors tapped into the neighborhood's most underused asset—the waterway.
---
On a warm afternoon in March, six children laugh and skip across a residential street to the Barth Avenue Bridge. They pause to wait for their teacher, standing up on the bridge railings and pointing down into the stream below where the sunlight illuminates the water. "Is that a snake down there?" "Where? I don't see it!" Their teacher catches up and calls them away to find a shaded spot on the grass for a class project filming a modern-day Red Riding Hood story, leaving the bridge the only witness to the water's murmurs. Tucked one mile behind the millennial playground of Fountain Square, three neighborhoods converge near the Barth Avenue Bridge, a new pedestrian bridge across the Pleasant Run waterway. The bridge connects the neighborhoods to the 27 miles of Pleasant Run trail, the Cultural Trail in Fountain Square, and all it leads to—downtown, the Monon Trail, Broad Ripple, and beyond. The bridge is situated in Bates-Hendricks, a historic neighborhood just south of I-70 that soon will no longer be an Indianapolis best-kept secret due to a stream of activity and renovations, including a recently completed underpass mural and a national HGTV show, "Good Bones," featuring neighborhood homes being rehabbed. To the southwest, the Pleasant Run trail meets Garfield Park in less than one mile. To the northeast, several miles of trail follow the waterway through the near eastside. Just a few years ago, residents were highlighting a laundry list of issues in the area through a Quality of Life planning initiative. Issues of concern were drug trafficking, sex trade, stray animals, and property crime. Residents of the Pleasant Run waterway work hard to gain a median income of $30,480 with only 15.9% of the population having an associate's degree or higher. While many longtime residents saw the need for change, skepticism ran rampant of talk and no action by leaders. The Pleasant Run waterway caught the attention of Reconnecting to Our Waterways (ROW), a local collective impact organization formed in 2012. The group aligned their network and resources with what the residents highlighted in the Quality of Life plan; seeing potential in the Barth Avenue Bridge site because of its existing assets—green space around the trail, proximity to the Cultural Trail, and the centrifugal infrastructure of a crumbling, dilapidated car bridge.
Conversations
Mark Kesling, founder and president of The daVinci Pursuit and co-chair of ROW's Education committee, was one of the first in ROW to assess the neighborhood. He and Alphons Von Adrichem of Central Indiana Community Foundation, co-chair of the Connectivity committee, began by biking the streets and trails of the neighborhood, one at a time.
"One of the really good things about ROW is the approach. We were looking at, where does the street go? Where does the trailhead go? Do you get lost? When I take people out with me, I don't look at what's wrong, I look at what the assets are because that's what we can work with."

Mark Kesling, The daVinci Pursuit
Next, ROW began attending and holding community meetings, connecting with neighbors, and listening first and foremost. While residents shared their desire for revitalization, distrust was the default response due to past organizations' undelivered promises and expectations. "People told us that we couldn't put anything in, that it was a really bad neighborhood," recalled Kesling. "We would say, 'Well, if we can't put anything there, how will we ever put anything there? How does it start?' We have to jump in and start." ROW staff recruited community volunteers in performing stream assessments, wading through the Pleasant Run waterway. As they began connecting a web of community assets— schools, a Safeway, a Walgreens, two food pantries, access to Fountain Square and Garfield Park—a vision began to take shape of a new pedestrian bridge to replace the crumbling old bridge and a revitalized green space. Kate Voss, a ROW volunteer and Outreach Coordinator for SENSE Charter School just one block north of the bridge site, helped by knocking on doors of houses and local businesses and frequenting the local "liar's club" at the corner gas station to educate neighbors about ideas and changes. "The bridge itself was initially symbolic of all the changes that were going on in the neighborhood," she said. "I would knock on doors and do canvassing to get the word out about the changes that were going on. Neighbors told me that they hated the bridge, and they felt that it was symbolic of all the changes going on that they had no control over—gentrification, etc. "With all of the hipsters and bikers moving into the neighborhood, some longtime residents felt conflicted because they feel like that's not a representation of who they are. But that's why the bridge is such a great symbol of connectivity in the neighborhood." Throughout the changes and community planning in Bates-Hendricks, ROW and its partners work as closely as possible with residents to preserve the essence of the neighborhood.
Resident Perspectives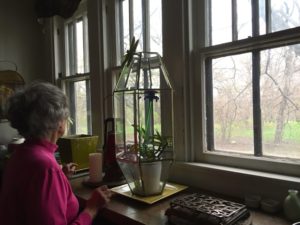 Marilyn Monroe looks out her dining room window onto the Pleasant Run trail
Seventy-eight-year-old Marilyn Monroe—not the actress, but with the same name—has lived on the near southeast side of Indianapolis for most of her life. Growing up in the 1940's just south of Garfield Park, she loved being out in nature: "At the time, there wasn't as much city—lots of fields." With a diverse career spanning a telephone company, retail, and an architecture firm, Monroe received her best Indianapolis education delivering papers and surveying for the Census Bureau in the last few decades, until retiring in 2015. She enjoyed being out in neighborhoods, meeting new people, and seeing a different side of the city at 2 a.m. in the morning. Monroe bought a rental home alongside the Pleasant Run trail in '98 and moved in a few doors down in '07. She chose the location because it felt like she was "out in nature" by the waterway and trail but could still be close to the city. "When we first moved here, there were drug dealers and robberies around until about the last four or five years," she recounted. She also watched the housing crisis impact the neighborhood, with several foreclosures nearby and some other homes going into decline because their owners were underwater on their mortgages. Monroe walks into Fountain Square to go to a coffee shop a few times a week, she walks to church, and she walks down to Garfield Park. She watches her great-grandkids, and when her youngest got fussy, she would walk her in the stroller down to the Barth Avenue Bridge site and look at the wildlife. There, she and her great-granddaughter witnessed changes underway.
Seeds of Change
The first change to arrive was freshly painted houses, flowering one by one around the Barth Avenue Bridge site like Indiana's crabapple trees. Before any construction began on the site, neighboring residents began to clear out their yards with a fresh energy. With neighborhood input, ROW, with its partnership of the city, began making a series of improvements to the Barth Avenue Bridge site throughout the summer and fall of 2015. First, they removed the aging car bridge and replaced it with a new, attractive pedestrian and bike bridge. On either side of the bridge, they installed an "Art Port," a power-enabled anchoring system for art installations that reduces permitting and planning barriers for pop-up art.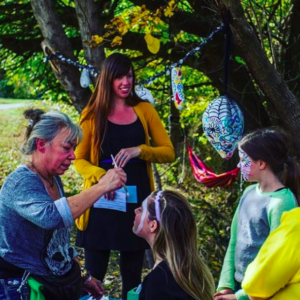 Neighbors paint faces and enjoy hammocks for the Day of the Dead celebration along Pleasant Run waterway
Second, in partnership with The DaVinci Pursuit, ROW developed and installed the first of several planned Ka-Bike-O-Scopes. This interactive sculpture consists of a stationary bike-like base that when pedaled causes canopies of overlapping up-cycled bicycle wheels 18 feet in the air to spin, creating a colorful art display during the day and LED-generated light at night to illuminate the trail. Children from nearby schools participated in the kaleidoscope creation. Finally, ROW built a small outdoor amphitheater right on the trail and waterway, destined for community events such as concerts, movie nights and school drama productions. As construction was underway, neighbors began curiously exploring the renovated space. Around November, the site made a breakthrough. Neighbors paint faces and enjoy hammocks for the Day of the Dead celebration along Pleasant Run waterway Voss and other volunteers knocked on doors to invite neighbors out for a community and Big Car Collective-organized Day of the Dead celebration at the new bridge, consisting of face painting, free food and activities, and the Wonder Wagon. The weather and turnout exceeded expectations, with both Hispanic and non-Hispanic families exploring traditions together and children playing down by the waterway and enjoying hammocks installed in the trees. Later that month for Thanksgiving, residents ventured out to the amphitheater to take family photos on the rocks. Voss is excited about possibilities for future community events at the site for the SENSE school and the neighborhood.
"It's another way to get the families out, something safe that they can do. Then, they can see that things are changing down here and can overcome the perception that things are not safe. That's why the amphitheater really leverages this area into something positive and exciting for them."

Kate Voss, SENSE
In addition to physical and aesthetic changes, ROW noticed a change in neighbor attitudes. Neighbors started looking out for each other, and the bridge renovation also started to bring neighbors together. Through the community meetings and the shared vision, families felt empowered to come out and talk about what was happening in their neighborhoods and to play an active role in what was happening, whereas in the past they had not always had the opportunity.
Revitalization
Many of the planned improvements to the site are still to come—lighting, an additional Ka-Bike-O-Scope installation, landscaping around the bridge using native plants to create an Indiana Back Yard Habitat demonstration site, and up-cycled benches to be installed that include pieces from the old car bridge. The cleanup process in the neighborhood is ongoing, but blighted houses are being tackled one by one. However, the changes already made have had a noticeable impact on the neighborhood with an uptick in pedestrian and bike traffic on the trail. Heroine trade that was occurring under the old bridge has disappeared. Existing residents are now in a safer, cleaner, and more connected neighborhood. Children and adults alike love to engage with the Ka-Bike-O-Scope, with one homeless veteran in the area even coming by to use it twice a day for exercise. The installation was recognized by NUVO as a 2015 Reader Choice Award in the Public Art Category. Once, a burglar from outside the neighborhood did attempt to vandalize the Ka-Bike-O-Scope for scrap metal, but the incident caused outrage and increased vigilance by the neighborhood to protect the new assets and report any suspicious activity. Destination Use assessments conducted by ROW show a 25% increase in average hourly pedestrian and bike traffic at the bridge site between 2014 and 2016. As Monroe and her great-granddaughter have watched the Barth Avenue Bridge site improve over time, they love to walk out to the site and look forward to the new bench installations.
"Since the attention to the waterways and the bridge, it's really brought up housing values and the neighborhood in general. People just ignored the waterways before, but now they see them as a place for entertainment and a place to let the city kids see some nature. If I had a lot of money, I'd like to buy one of those houses there on the corner and put in a coffee shop just to have people sit and ride their bikes over to stop in and take a break."

Marilyn Monroe, Fountain Square Resident
Monroe regularly attends Pleasant Run waterway committee meetings and Fountain Square Alliance neighborhood meetings, encouraging others to use the trails and waterways and stay active in promoting area improvement. "I really do think it's important to preserve what green areas we have in the city, because I believe kids do a lot better when they're let out amongst the trees and the weeds and the dirt. I'm just a tree lover, I guess. I like to have my grandkids come over and lift up a rock and see what's under it."
A Vision for a More Connected Indianapolis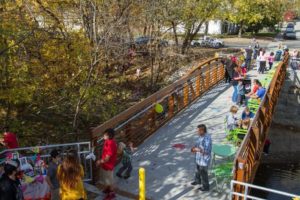 Bates-Hendricks residents enjoy festivities along the renovated Barth Avenue Bridge site
Connectivity is one of one of the guiding principles, or "elements" of ROW's mission, with the vision to "connect the neighborhoods surrounding our waterways to art, nature, and beauty through bike trails or a 10-minute walk." In an area where 1 in 10 households are carless1 and many others want access to alternative transportation, the improved connectivity in Bates-Hendricks is invaluable. Children from the nearby SENSE schools, IPS School 31, and Fountain Square Academy walk across the bridge to school, and residents use the trail and bridge to access Fountain Square, grocery stores, food pantries, and more. An IndyGo Red Line stop is planned less than one block from the Barth Avenue Bridge site, making the site not only an accessible destination for the city, but more easily commutable for those living there. In the spring of 2016, a new Farmer's Market is planned to open in nearby Garfield Park. "Connectivity is so important because people can utilize this area more because they see a safety here now," said Voss. "Now that we have a modern bridge that's becoming a destination, people will utilize it. We're looking at safe routes—what are some of the safe paths that people will use. It's helping people to imagine the possibilities in the neighborhood. It's like a ripple effect out from the bridge." ROW has brought together residents, non-profits and for-profit organizations, and city officials and funders into the neighborhood. Through the collective, it has improved access to resources and attention to issues that had gone unseen for years. ROW is focused on reclaiming the benefits of Indianapolis' waterways and surrounding communities so everyone has access to art, nature, and beauty every day. Kesling reflects, "We helped the neighborhood see the assets that they already had and empower them to help create solutions with us having a set of resources and some expertise that we could bring to bear that was essential for that to happen. We empower the citizens to take control, and bring the city and other folks alongside them."
—–
Improvements to the Barth Avenue Bridge were made possible by grants from the Kresge Foundation and the Central Indiana Community Foundation. Explore ROW's website to learn more about Reconnecting to Our Waterways and their work occurring throughout Indianapolis.
—–