Destination Fall Creek Takes Root
---
Five years ago, a group of people and organizations that would become Reconnecting to Our Waterways came together to dream about how to make Fall Creek a better destination. The mission? Channel thousands of volunteer hours to clear dense invasive honeysuckle and plant a garden and orchard in the middle of a food desert.
---
Not far from Fall Creek outside the Ivy Tech Community College Culinary Building, tomatoes, squash, lettuce, and herbs grow in the summer sun. Students sit and eat lunch on nearby picnic benches with a view of the creek. By fall, apples and persimmon will blossom in the nearby orchard along the waterway.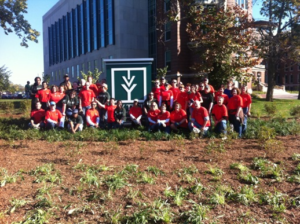 Culinary students at Ivy Tech Community College maintain the garden and orchards in the Fall Creek "Science Corridor," which serves as an outdoor lab and classroom. The produce they harvest is served fresh in two eateries on campus, one bakery café and one fine dining restaurant and bar. The two restaurants serve food from 100% locally sourced ingredients, including jams made from the orchard fruit. This Ivy Tech campus is a zero-waste facility, meaning that less than two percent of its waste products go to a traditional landfill, while 98% is either recycled or reused as compost.
However, this model of sustainability and embedded nature in the middle of urban Indianapolis hasn't always been here.
Four years ago, tall, dense invasive honeysuckle barricaded the view of the creek from Ivy Tech, cutting off the neighborhood and Ivy Tech campus from its main natural feature. At the time, the Culinary Center was housed in a smaller, much more limited facility.
"For the college, Fall Creek is a great asset to be able to use it because it's so close, and you can get out there and into nature so quickly. However, nobody knows that all of this is over here. Years ago, many people in the neighborhood didn't know that there was access to anything nature-based."

Chef Thom England, Culinary Center
The gargantuan effort behind Destination Fall Creek is part of a larger effort to remove barriers between the neighborhood and its main natural feature—the waterway. Removing the invasive plants and investing in the Science Corridor through the collective impact model has helped to foster a culture of restoration in the neighborhood.
Destination Fall Creek
Starting in 2012, 79 organizations and 492 neighborhood stakeholders came together to dream about how to improve Indianapolis' quality of life. They formed the Mid-North Quality of Life Plan, with a clear priority directive: reconnect to our waterways by making Fall Creek a destination. This organized effort was the beginning framework of what would become the collective impact organization Reconnecting to Our Waterways.
Running like a vein through the heart of Midtown, Fall Creek is a major landmark that had become overgrown with invasive plants—in particular, Amur bush honeysuckle. Invasive non-native species are a threat to the survival of endangered species and can have significant ecological impacts on forestry, agriculture, fisheries, and property values—to the tune of $120 billion in damage annually in the U.S.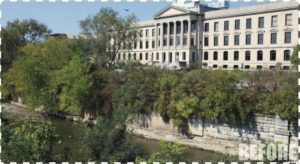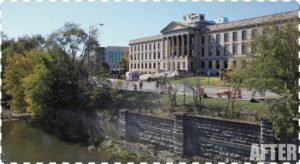 Amur bush honeysuckle can grow 20 feet tall and retains its dense leaves for a longer period than native Indiana plants, serving as visual pollution that blocks views of natural landscapes and disconnects citizens from nature. As a result of the honeysuckle, Fall Creek was not visible from the road in many spots, rendering it nearly invisible. The invasive plants were a symbol of urban decay in a historic neighborhood struggling to reinvent itself.
On a cold day in 2011, a small group of volunteers worked in the rain to clear a sight line from the parkway to the bridge and the creek to enhance the views from the historic bridges.
"We were trying to get neighbors out and involved in the volunteering process so they could understand what was going on and involve the neighborhood association in the planning process."

Chef Thom England
From the first service day, the task force learned that they would need more sophisticated mobilization and much more manpower to succeed. At the same time, pharmaceutical giant Eli Lilly & Co. had begun to search for a way to give back to the Indianapolis community, particularly through a vision of a Global Day of Service for its approximately 40,000 employees, 10,000 of which are in Indiana.
After more than eight months of planning, Destination Fall Creek came to life during the Global Day of Service in 2012. In a single day, 2,148 volunteers from Eli Lilly & Co., Ivy Tech, and other organizations coordinated by Keep Indianapolis Beautiful converged on Fall Creek to transform 3.5 miles of the waterway between 38th St. and I-65. During the day, the city closed a three-mile stretch of the parkway for traffic for hours. Volunteers cut and lopped the shrubs and herbicide was applied to cut stumps under the supervision of on-site environmental consultants. More than 760 m3 of honeysuckle were removed from 30 acres of land and hauled away to be chipped. Volunteers spread native riparian grass seed where the invasive plants had stood. They also planted five garden beds and built a shade structure at the Culinary Center. At Barton Park, volunteers built an outdoor labyrinth, and outdoor classroom.
Between 12 partner organizations, over $1.1 million in cash and services and 8,592 volunteer hours were given in a single day.
In 2013, the Global Day of Service (now known as Indy Do Day, an expanded citywide service blitz) returned to Fall Creek with 2,700 volunteers to remove additional invasive plants, paint a mural, and plant more than 40,000 plants including the orchard in Barton Park West.
From an ecological standpoint, the massive project accomplished the following:
Replace invasive plant species with riparian plantings to help provide habitat to native wildlife
Increase biodiversity of native plants and animals
Protect creek banks from erosion while reducing maintenance with a selective plant palette
Reduces erosion and improves water quality
Create a case study and best management practices for invasive removal and maintenance
Sustainability in the City
Chef England's journey with local eating began 11 years ago, when he read the book Animal, Vegetable, Miracle and decided to take on the challenge of eating local for an entire year with only ingredients from a 100-mile radius of Indianapolis that he cooked at home.
The challenge required some creativity, but was ultimately a success. Chef England has continued his dedication to eating locally ever since, authoring a cookbook on local eating and co-founding Dig IN, a nonprofit organization that promotes Indiana food and agriculture.
"As a chef, the biggest thing that I learned is if you can find that source or ask someone to grow something for you, then you can actually grow something that has more flavor than you can get from the grocery store. We used to always assume that everything was available in grocery stores and that it was better, but that's not the case."

Chef Thom England
Over the past decade, he notes, eating locally has become much more accessible with the launch of the Indy Winter Farmer's Market and a wider availability of local food in grocery stores. Among his culinary students—half of which live within walking distance of Ivy Tech—he sees more and more who either grow their own produce or raise chickens in the heart of the city.
The Ivy Tech Culinary Center has grown quickly since moving into its current building four years ago, now boasting approximately 1,500 students from diverse backgrounds. Sustainable objectives are a big part of the curriculum, teaching students about energy savings, about the number of miles food travels to reach its destination, and how to grow food locally.
Ongoing Efforts
Beyond the enormous strides made around Fall Creek, Destination Fall Creek is an ongoing project. The invasive honeysuckle needs continuing maintenance where it was cleared out in 2012 and 2013.
The Mid-North area is also a gaping food desert in the middle of Indianapolis. For residents who don't have a car, it takes two bus lines to reach the closest grocery store. Continuing to educate residents about the food they can grow locally, taking advantage of natural resources, is one way to address this problem.
"Down by the orchard, I'm starting to see more and more families out walking. Last week, there was a four- or five-year-old girl there with her family, and she looked around and asked me, 'Is this yours?' And I answered, 'No, this is yours—it's the community's. You can come out here any time you want to enjoy it.'"

Chef Thom England
---
The Fall Creek Science Corridor is just one facet of placemaking plans for Fall Creek. Learn about the Delaware "Spider" project at the intersection of Delaware Street and Fall Creek Parkway, with construction going on now.
---

The Science Corridor at Destination Fall Creek is possible thanks to Eli Lilly & Co., Ivy Tech, Keep Indianapolis Beautiful, Mapleton-Fall Creek Development Corporation and Schmidt Associates, Inc.
Reconnecting to Our Waterways has brought together residents, non-profits and for-profit organizations, and city officials and funders into the neighborhood. Through the collective impact, it has improved access to resources and attention to issues that had gone unseen for years. ROW is focused on reclaiming the benefits of Indianapolis' waterways and surrounding communities so everyone has access to art, nature, and beauty every day.