ROW awards $50K in grants to improve waterways
Reconnecting to Our Waterways announced winners at annual ROWport event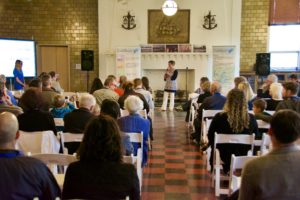 INDIANAPOLIS — Reconnecting to Our Waterways (ROW) announced the winners of their $50,000 in grant funding at their annual ROWport celebration on Friday, April 21.
Through the generous support from the Indianapolis Foundation/Central Indiana Community Foundation (CICF), ROW is able to move forward with their mission of convening community partners to enhance quality of life through innovation, analysis, cultural advancement and investment along Indy waterways and neighborhoods.   Preferences were given to grant applications that had the following:
Helped achieve the neighborhood's strategic and quality of life goals

Demonstrated broad partnerships with neighborhood residents, artists, organizations and business

Demonstrated potential long-term impact

Cultivated multiple funding sources (both cash and in-kind)
The $50,000 was then allocated between four different waterway committees.
Central Canal was awarded $13,525 to help engage the northwest community and encourage responsible water use and sustainable food production in a local food desert. They plan to do that through rain barrel workshops, environmental improvements, green infrastructure maintenance training, Groundwork Indy Canal Garden, and a water bottle exchange program.
Little Eagle Creek was awarded $6,500 to engage the local community through movie screenings along Falcon Creek this summer at IPS School 61. The movies will be water themed and the committee will use the screenings to collect the community's ideas on how to make Little Eagle Creek and Falcon Creek a community asset.
Pleasant Run was awarded $10,750 to identify creative placemaking opportunities along their waterway by creating destination places, and increasing trail safety to promote enduring social change and improve the physical environment. They have identified the Spruce Avenue Pedestrian Bridge as the next critical site for forwarding this mission.
Pogue's Run was awarded $19,225 to fund their Green Infrastructure Training Program that will partner with the Duvall Residential Center and youth volunteers from Groundwork Indy to train a re-entry workforce on functional landscapes and best maintenance practices for green spaces. It will also fund new art benches at Pogue's Run Art and Nature Park.
About Reconnecting to Our Waterways
Reconnecting to Our Waterways (ROW) is a grassroots initiative designed to reclaim the benefits of Indianapolis' waterways through helping neighbors strengthen waterways, and in turn, helping waterways strengthen neighborhoods. ROW focuses on six of Indianapolis' main waterways: Fall Creek, Pogue's Run, Pleasant Run, White River, Little Eagle Creek and the Central Canal. For more information visit www.OurWaterways.org.
###
Media Contact: Heidi Harmon [email protected] – 317.275.2043